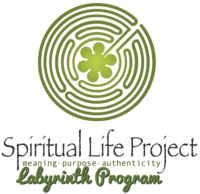 Often confused with a maze, which is a puzzle to be solved, a labyrinth is a winding path that moves in turns toward a center point. At the center of the labyrinth is a space for meditation or reflection. The path is unicursal, meaning the way into and out of the labyrinth are the same. Labyrinths have been used on all continents, and by many different groups of people, for over 3,500 years. The labyrinth is a tool that can be used for meditation, prayer, enhancing creativity, solving problems, dealing with grief, or expressing joy.
Throughout the semester, the Traveling Labyrinth is available for students, faculty, and staff to think, reflect, and meditate. The labyrinth can also be reserved by groups or for events.
To set up a labyrinth program, go to https://reservations.dsa.fsu.edu/ and log in by using your FSU ID and password.  Click on Reservations, then the Center for Leadership and Social Change, then Labyrinth Request.  The system will prompt you through questions and availability of the labyrinth.
For each reservation, trained labyrinth facilitators will arrive to set up the labyrinth and guide your group through the process of walking the labyrinth.
Interested in learning more about the labyrinth program or becoming a labyrinth facilitator? Email spirituallifeproject@admin.fsu.edu